With the advancement in technology, you can cater to all your business needs in a better way. Business communication can be much more effective and easier if you use the right technology. Virtual toll-free numbers are a great example of this.
A toll-free telephone number (800 number) is a number that is billed for all arriving calls instead of incurring charges to the originating telephone subscriber. For the calling party, a call to a toll-free number from a landline is free of charge. Such numbers are the perfect solution for online shops, call-centers, delivery services, customer services, helpdesks and many other types of business related to the customer care area.
On the other hand, a virtual telephone number is a number which is not linked with one particular phone line and not associated with a certain phone unit or handset. This number is not an actual phone number, but it is a number which is used to send calls to a pre-set number.
Are you a business owner who wants to attract more customers? Are you planning to start a business and dealing with customer queries on the phone is one of your concerns?Get a virtual toll-free number now! Look at things from the customer's point-of-view, they always prefer to call on free numbers to ask questions about your products or services. Let's face it: customers are always on the lookout for free services.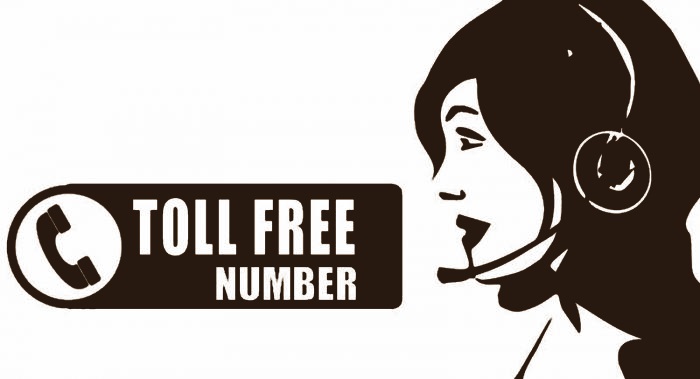 ADVANTAGES OF VIRTUAL TOLL-FREE NUMBERS
If you already have a business and you are wondering how to attract more customers then using virtual toll free numbers is the solution you are looking for. Because free numbers are usually the preferred choice when someone would want to make an inquiry about what they would want to know.
Most entrepreneurs have started to understand that toll free numbers are very effective marketing tools as they tend to createconsiderably more noteworthy responses to advertisements - both in the electronic and print media. Besides the fact that toll free numbers incite clients as they don't need to pay for calls, the free can be directed to any cell phone or other telephone line, fax, or even email. The major attraction for the business owners is that they won't be missing on the long-distance calls if they use virtual toll free numbers.
Effective business owners who utilize toll free numbers are completely mindful of the points of interest for their business, yet others are unfortunately unaware of what ponders a toll free number can do to their business. Recent researches tell us that if you use toll free numbers for advertising, you fetch 30 percent more responses than those advertisements who don't use toll free numbers.
One of the primary difficulties for a new business to address is to locate a compelling harmony amongst promotion and advertising and sensibly overseeing costs. A toll free number introduces the picture that the business works on a national level or, at least, that the business is sufficiently effective as it can endure the cost of correspondences with its customers.
As the expenses of media communications keep on falling, potential clients have developed to expect that "genuine" organizations will offer them with a toll free number; local-only numbered businesses are quite recent and local. This, obviously, is pretty much essential relying upon the sort of business in which the new endeavor is engaged in. At a point when customers see an advertisement with toll free numbers, they promptly frame the impression that yours is an entrenched, well-established and reliable business house. All business ventures, irrespective of their size and size of operations, can extend the picture of a substantial corporate.Additionally, a 1-800 number conjoined with a word or appealing expression can be more effortlessly remembered by both existing and potential customers.
For relatively small business that have limited number of workers, these toll free numbers likewise enable customers to keep on communicating despite the fact that there is no one accessible to personally take their calls. With a PBX framework, clients may get whatever data they require regardless of the possibility that there is no live person taking care of their calls. Prior to any business thinking about hiring additional workers to answer and route telephone calls to the various local extensions, they should first look at the purchasing of a toll free number. If you go for a virtual toll free number you know you can deal with all the approaching calls to your business without the need of a receptionist or any additional employee for the same post. This will really save you from bearing the salary cost of the employee who was earlier hired for taking and routing the calls of your business. Regardless of whether you have a single phone line or you are utilizing numerous lines. The virtual PBX will have the capacity to course and direct calls to the right person and place. The clients simply need to follow the voice prompts or choices accessible to them.
If you are worried that a couple of calls may go unattended you can even course the calls particularly to your cell phone. The PBX system can be controlled by you. So, depending upon your necessities you can increase or oust features to it.
With all these essentially more important advantages, getting a virtual toll free number and PBX system initiates other benefits too. Expanding on the basis of low capital venture, this sort of framework is exceptionally adaptable. As the new business develops, and call volume follows, a toll free number that is appropriately steered can give an organization the capacity to effectively manage expanded request. While it is positively conceivable to adjust to the expansion of a further developed telephone solution after the time of initial growth, it is as often as possible the case that organizations that have built up great methods early, experience less developing sufferings.
Another important benefit of using a virtual toll free number linked to a virtual PBX is that it also allows to capture incoming numbers for the new business (and often corresponding addresses and names as well) and consequently create a lead database. At the point when a client calls a toll free number, they are gesturing potential interest; a business that can generate leads like this is indeed at a distinct advantage.
To offer you the best virtual toll free number services in very low rates, Freeje is an ultimate solution for it. Freeje offers you toll free phone numbers (800 number) for your delivery services, online shop, help desks, call-centers, customer services or any other customer care related business. These landline calls are going to be free for the calling party. Calls can likewise be also forwarded to a third-party soft phone, landline phone number or mobile.
So, what are you still waiting for!