Table of Contents:
1. Registration
2. Balance refill
3. Sidebar
4. Outgoing calls
4.1. Outgoing calls with Caller ID
5. Incoming calls (Call forwarding)
6. Additional numbers
7. Virtual SIM
8. My SIM cards
9. Technical support
Step-by-step instructions:
1. Registration
Run Freeje on your device. Tap "REGISTRATION" button and input your phone number and email. You'll get verifications codes on both sources (email and phone number).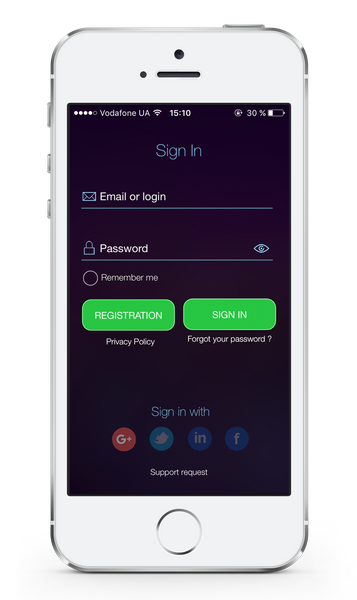 You can also register with your Google account. In section "Sign in with" tap the icon G+ and choose Google account.
For finishing registration process you should add your phone number and confirm it with SMS code or via call.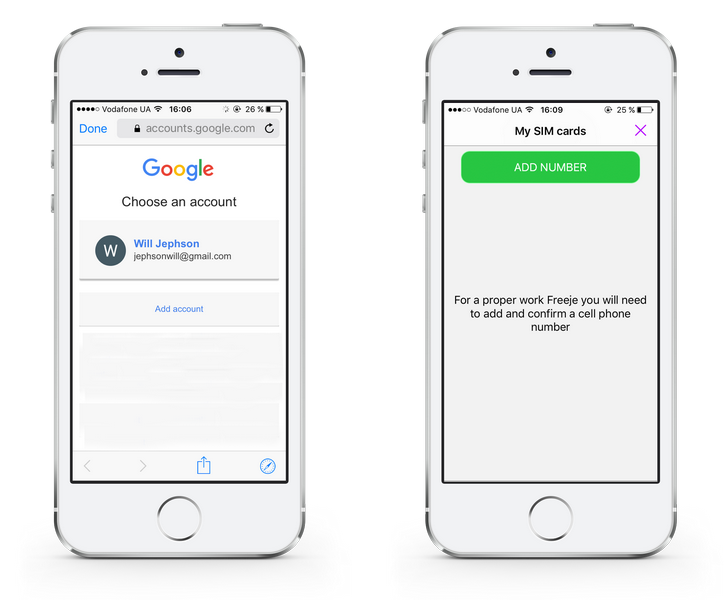 After you're authorized in the app and you'll get an email and SMS with login and password.
Then you'll get short tutorial on your screen: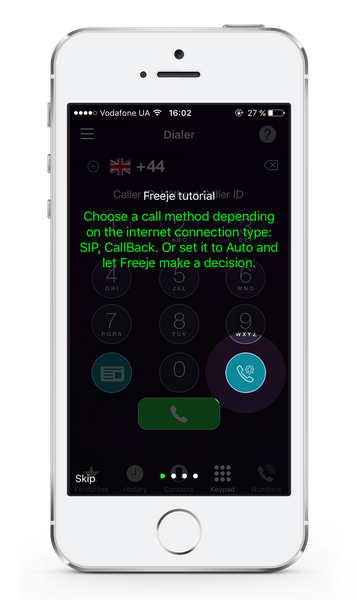 If you sign out, reinstall the app, reset settings or change smartphone – for signing in you need to input your login and password that you've got with registration or use your Google account for entering.
For future using of Freeje you're to top up your balance account.
Take a note: all new users can test Freeje in the Demo mode. For 24 hours your account will be provided with two virtual numbers and recharged on a specific amount of money.
2. Balance refill
To start making calls, you need to refill your balance. Your current balance status is visible in the sidebar of your app. Tap "REFILL" button at the top right corner of your screen. You will see the list of available payment systems. Choose one and make a payment.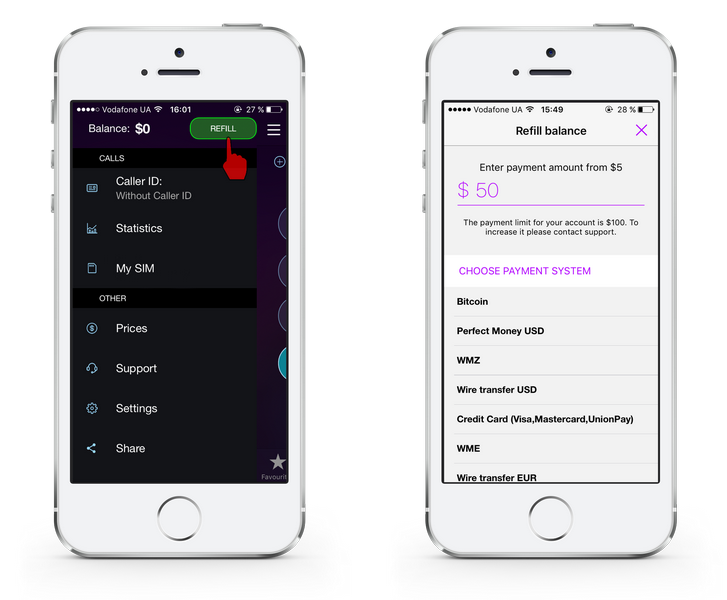 Take a note: the default payment limit of a one transaction is $100. You can easily change this amount to a necessary one by sending us an email request.
3. Sidebar
In the sidebar is available the following functions:
– Caller ID (caller identification) — the number that will be visible when you make outgoing calls.
– Statistics — shows the statistics of incoming calls.
– My SIM — the list of all confirmed SIM cards.
– Support — gives possibilities to start live chat, make a call or send a request to our support team via email.
– Settings — code of residence country, change of passport and call records.
– Share option.
– Sign out — signing out from your current Freeje account.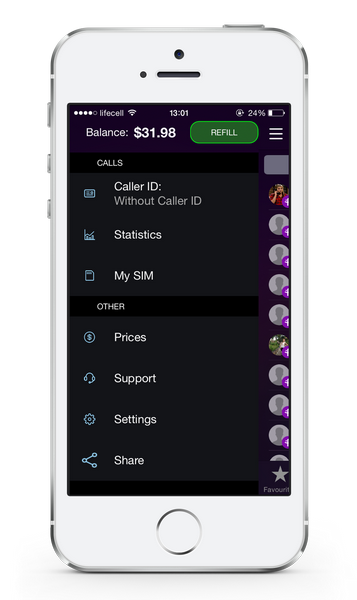 4. Outgoing calls
To make outgoing calls, go to the "Keypad".
Take a note: to make a call, you must select a call type. There are two choices:

– SIP – making outgoing calls through the internet.
– Callback – s when our PBX makes call to your device (active SIM card) and connects you with the number you have dialed.

To choose or change calling type you just need to tap the icon "Phone with cogwheel".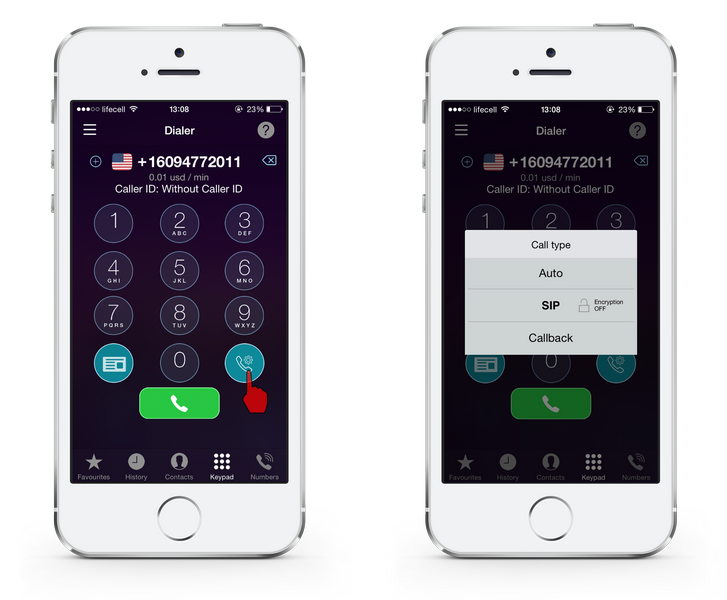 Take a note: you must input a number in the international format.
After you input the number and chose the calling type, the price for the call will be displayed on the screen. To make a call, press the call button.
Take a note: you've got an opportunity to use service Caller ID (caller identification) to make outgoing calls with. If you bought a virtual number, it could be displayed on the phone screen of a call recipient.
4.1. Outgoing calls with Caller ID
One of the main Freeje advantages is ability to make outgoing calls with Caller ID. You can buy virtual numbers and choose which of them will be displayed on the recipient screen.
In order to select the number go to the "Keypad" section. Tap the button with the figure of ID card and then tap the necessary virtual number in dialog "Caller ID number".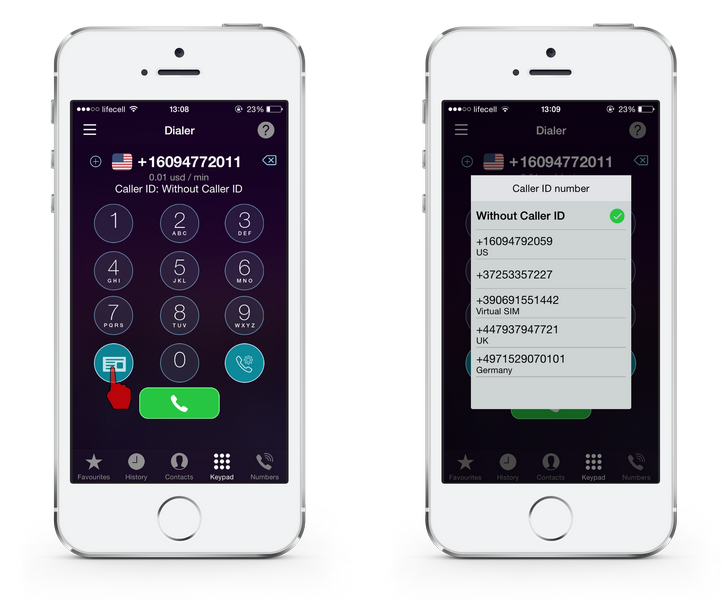 5. Incoming calls (Call forwarding)
You can receive calls not only in your Freeje app. It is possible to forward calls to another softphone, mobile number or landline. To activate this option, go to "Numbers" and tab on a virtual number. On the screen "Number information" you can get all information about the number: setup fee, monthly fee and the date of connection.

To choose a direction of call forwarding, tap the "Call forwarding" and select the desired direction of forwarding in the expanded block.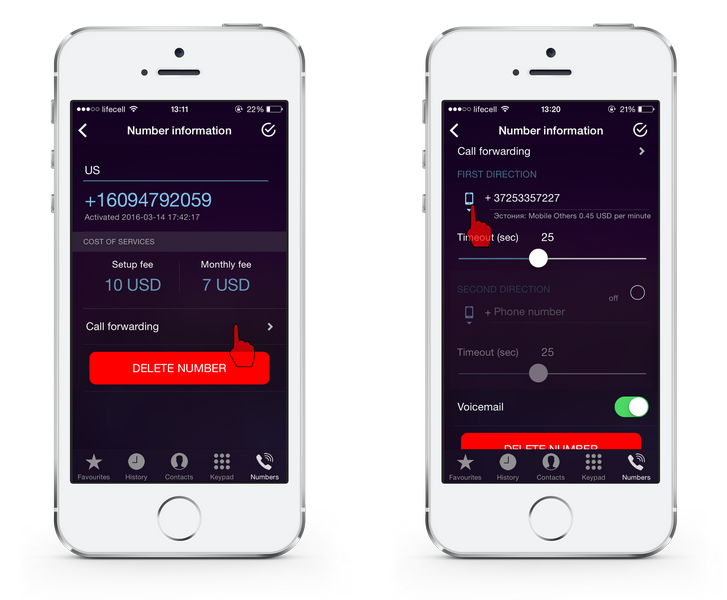 You can also configure call forwarding to multiple destinations and receive calls in one of them. For example, when a first phone number is "busy", a call can be forwarded to a second direction after a specified time interval.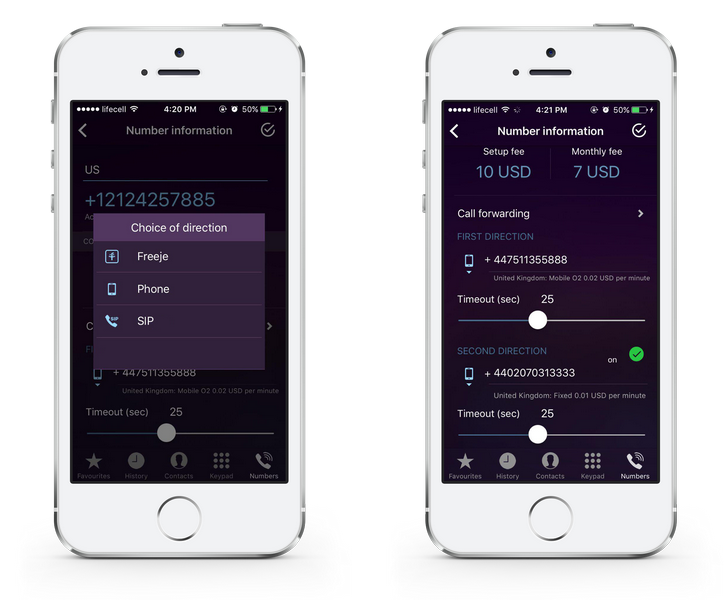 Take a note: "Timeout" option is the duration of calling to one direction. The recommended value of timeout is 25 seconds or more.
In call forwarding settings you can activate Voicemail service and all records will be sent to your email address.
Take a note: service "Follow me" is connected by default. That gives opportunity to receive all calls using the app with internet connection.
6. Additional numbers
To connect virtual numbers you need to open the tab "Numbers" and tap the button "ADD NUMBER" and choose the required type of numbers (Voice number, SMS, Fax, Toll-free, Virtual SIM).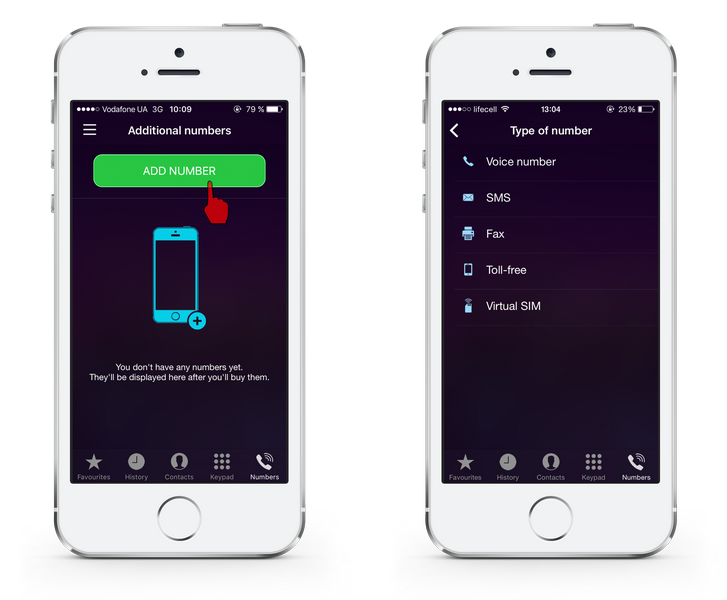 Then from the list select the desired country, city and number. After choose the desired number, period of use of the service, tap "ADD NUMBER". If there isn't enough money on your balance, you will be offered to top up your balance.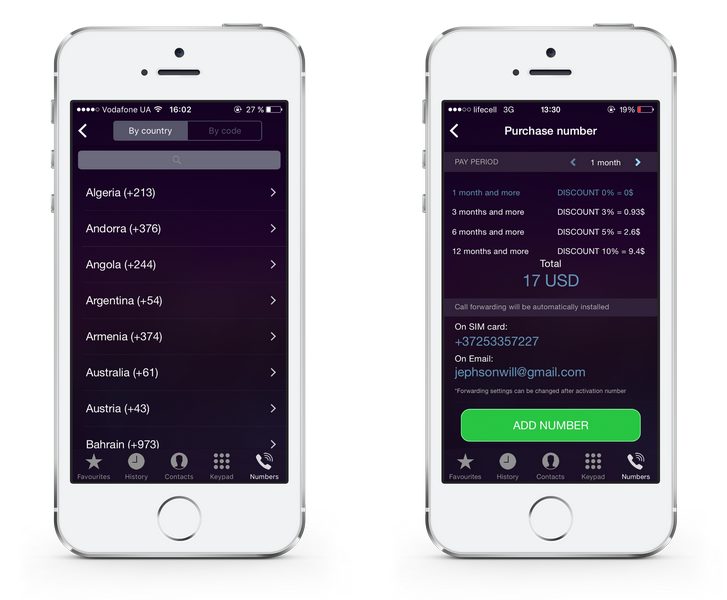 As a rule, the number is activated within 24 hours after purchase.
Take a note: to setup numbers of some countries is necessary to provide a copy of passport with residence permit (registration address) to our e-mail: info@freeje.com. Such numbers are activated within 24 hours from the date of purchase and delivery of documents.
Connected and activated virtual numbers will be displayed in the "Numbers" tab with the status "Active".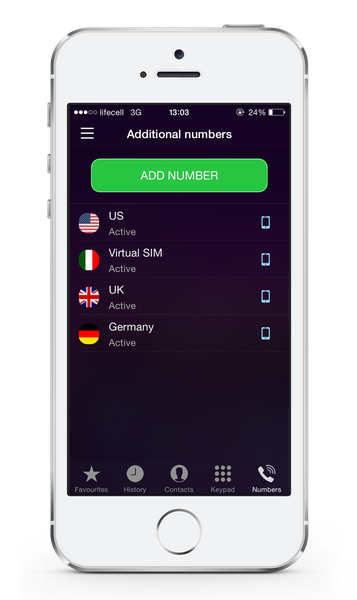 7. Virtual SIM
To activate the service "Virtual SIM" go to the tab "Numbers" and tap the button "ADD NUMBER", on the screen "Type of number" select "Virtual SIM".
Take a note: for using this service you need USB modem.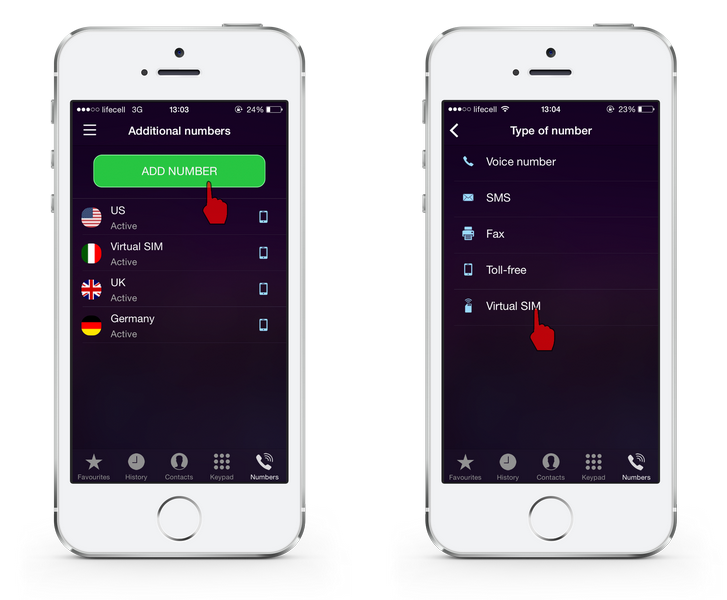 After that, your will receive an email with installation instructions.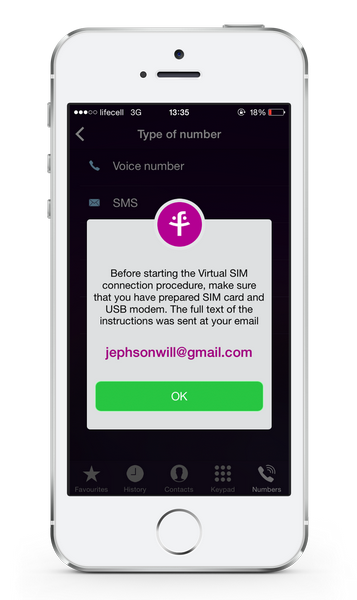 Open your email and follow the step-by-step instruction.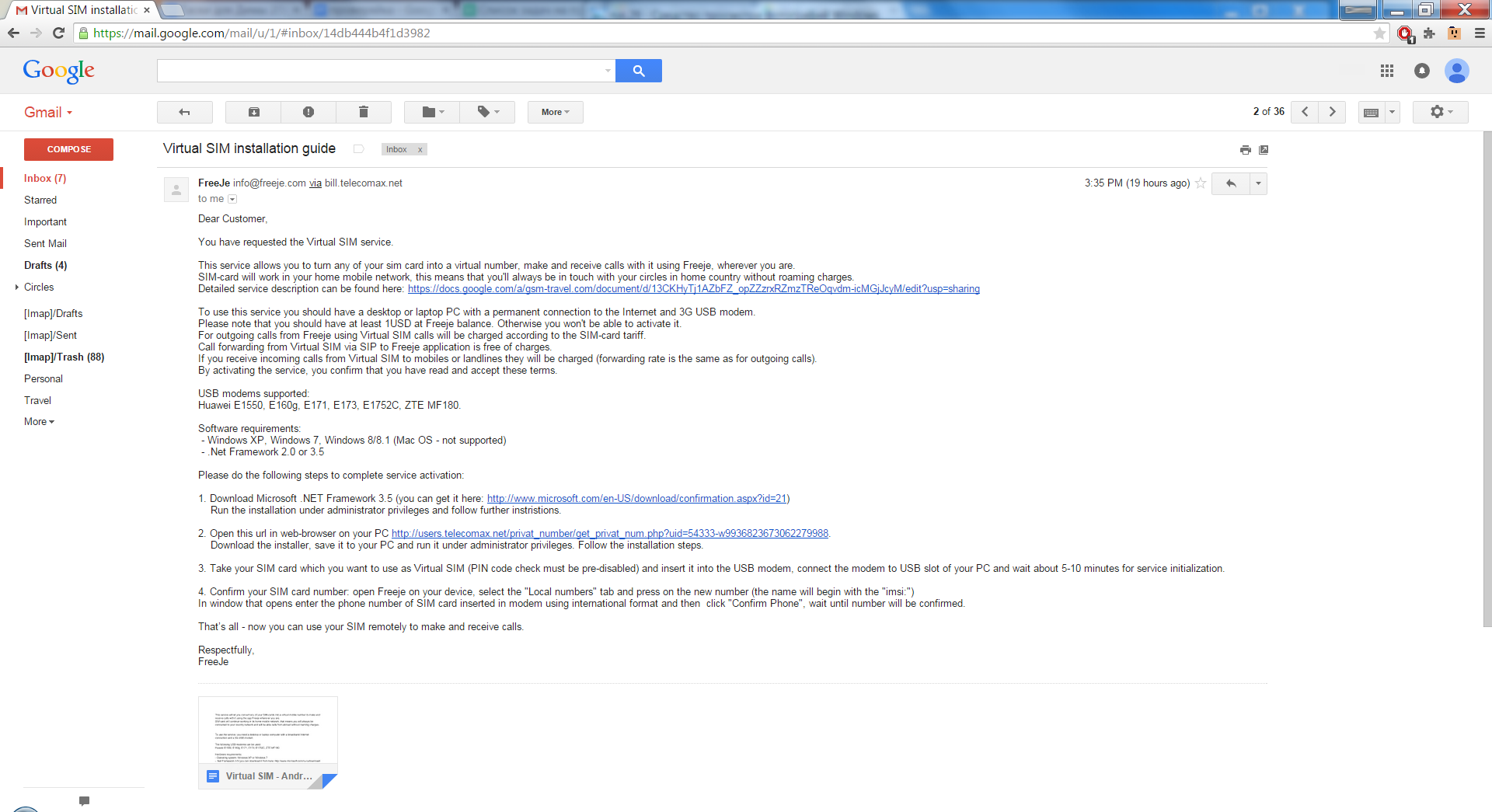 Take a note: Installation files must be run with administrator privileges.
Firstly, install .Net Framework 3.5 first and then run SipGate Setup. Confirm all program requirement and wait till the installation end.
Insert the SIM card that you want to use as a virtual number into a USB modem after the installation.
Take a note: checking PIN code on SIM card must be turned off before inserting into the modem. You can disable PIN code checking in the menu of your mobile phone.

After inserting SIM card into the modem, plug it in an available USB port and wait for 5-10 minutes to initialize the service.
After that you need to confirm the number of SIM card. Launch Freeje on your smartphone and go to the tab "Numbers". Tap the IMSI number, it won't be active.In the dialog box, enter a phone number of the SIM card which is inserted into the USB modem and tap "CONFIRM".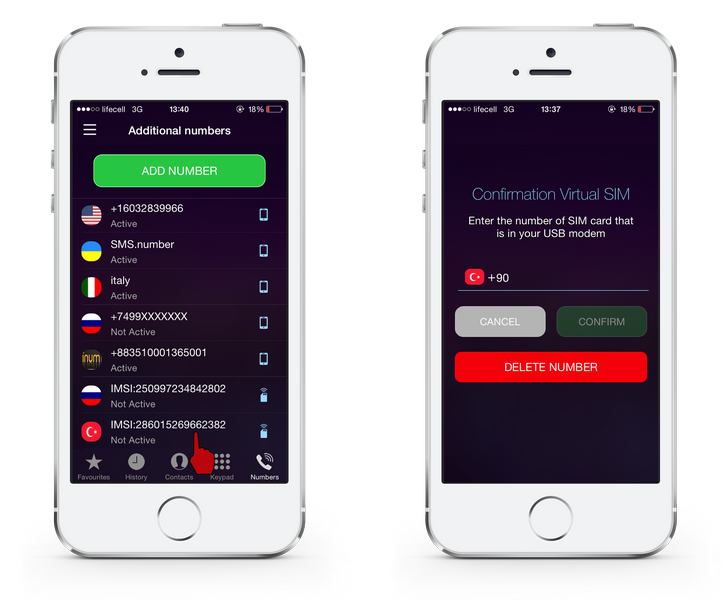 Take a note: We do not recommend you to insert the number of the SIM card, which was used for the registration in Freeje. This may affect the proper work of Virtual SIM.
SIM card verification takes up to 1 minute. After that the Virtual SIM number will be activated.
If you get an error, you can restart SIM card verification again.
After the ending of the procedure you can start using Freeje Virtual SIM. Choose the number of Virtual SIM from the Caller ID list and start making calls.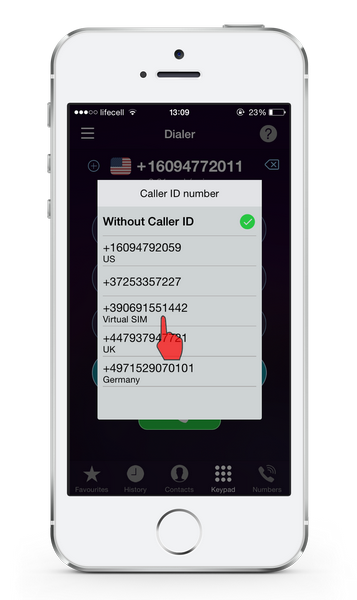 You can also forward incoming calls from your Virtual SIM to Freeje account, Skype name, landline or mobile phone. To do that, tap the Virtual SIM number in the "Numbers" tab and set up call forwarding.
8. My SIM cards
You can find information about your all confirmed SIM card numbers in the sidebar by selecting "My SIM". To add the number on the screen "My SIM cards", tap the button "ADD NUMBER", input new number and confirm it with verification code from SMS.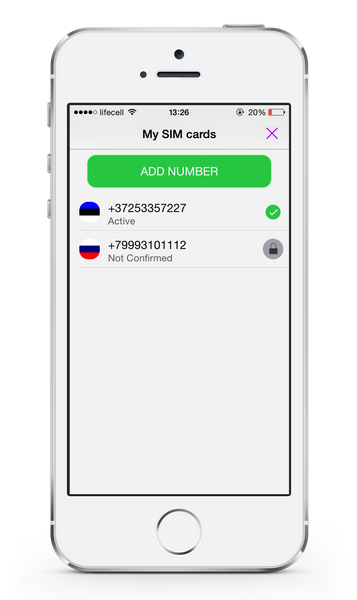 Take a note: If verification code wasn't got, you could confirm the number by call. To make this tap the number that "No confirmed", choose the option "Confirm number" and there is a button "No SMS ?". If the SIM, that you're going to confirm, is installed in another device, the incoming call should be rejected. So that in this way our system will fix your number in database.
You can select any confirmed SIM card number as your active one.
Active number – accepts all incoming calls using app.
If you aren't using your confirmed SIM any more, you can delete it by tapping the number and delete.
9. Technical support
If you have any questions, you can contact our technical support. To do this operation go to the sidebar of our app and open the section "Support" and contact us in appropriate way.
Take a note: you need to have an Internet connection to make a call to technical support.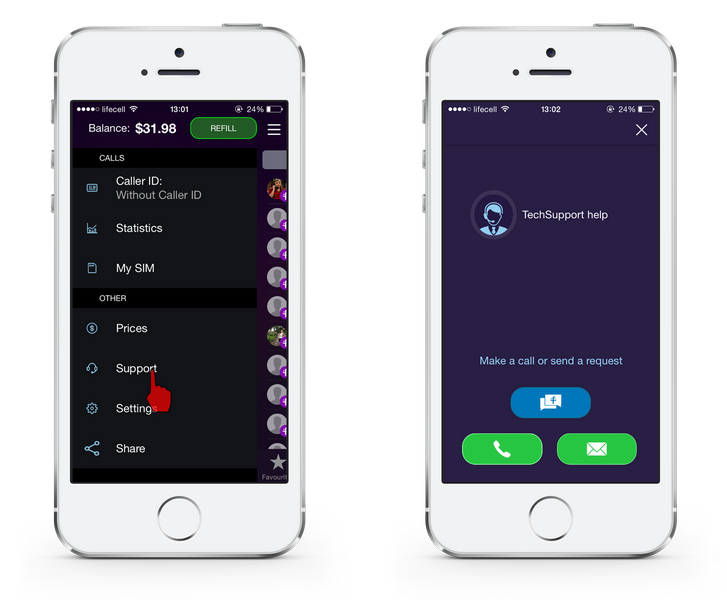 Goodluck!
Instructions for Android devices you can find here.